Breaking Down the 2020 NFL MVP Race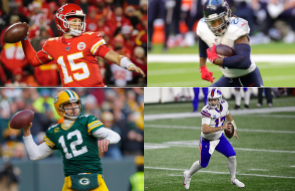 Despite all doubts, the NFL managed to complete its 256 game season without any cancellations. While not free of challenges—there were a couple of games rescheduled due to outbreaks on certain teams—in the end, you have to give them credit. The NFL got it done, and this season has certainly been a fun one. The playoff race was tight up until the last game, and there were several standout players making the MVP race one of the NFL's most competitive ones yet. While Aaron Rodgers may have won this award in the end, there were several other players that excelled at their position, making cases for MVP
The MVP race really can be narrowed down to four candidates based on their regular season performance: Aaron Rodgers(the winner) the veteran quarterback of the Green Bay Packers, Patrick Mahomes the star quarterback of the Kansas City Chiefs, Derrick Henry, the powerful Tennessee Titans running back, and Josh Allen, the quarterback of the AFC east-winning Buffalo Bills. All of these players had spectacular seasons, and all of them made a strong case for MVP. 
Let's start off with the veteran and future Hall of Famer who ended up winning this award, Aaron Rodgers. 2020 was a career year for him; he posted a career-high in touchdowns (51), accumulated over 4,200 passing yards, and threw only 5 interceptions across 16 games. He also had a 121.5 passer rating which is the second-highest of all time, eclipsed by none other than Rodgers' MVP season in 2011. Despite the wealth of exciting young quarterbacks in the league, Rodgers put up one of the best statistical seasons in history for the position, certainly making a strong case for MVP.
The next worthy candidate was Patrick Mahomes. With 40 total touchdowns, only 6 interceptions, and over 5,000 total yards in 15 games, the Kansas City Chiefs QB played phenomenally well, leading the Chiefs to a 14-1 record. With no-look passes and sidearm throws, the 3rd year QB is still taking the league by storm. While not having as breathtaking of a season as 2018, when he won MVP, Mahomes is still outstanding and led the Chiefs to a league-leading 14-2 record and first-round bye in the NFL playoffs. He made another compelling case for MVP. 
Let's now talk about the only non-QB that I think deserved to be in this conservation: the mighty running back Derrick Henry. If you watch football then you already know that Derrick Henry is an absolute freak of nature. At 6'3", 238 lbs he destroys every defender in his path. This is supported by the fact that he became only the 8th player in NFL history to reach over 2,000 rushing yards in a single season. Pair that with a career-high 21 total touchdowns and he made a great candidate. 
Last, but certainly not least, there is Josh Allen from the Buffalo Bills. If there was an award for "Breakout player of the year," the 2020 winner would be Josh Allen. With 4,965 yards and 45 touchdowns, he had 16 more total touchdowns and almost 2,000 more total yards than he did last year. However, the most important improvement in his play this year was his accuracy. In 2018, draft scouts and GMs had doubts about Allen because of his inaccuracy in college. This worry proved well-founded, as over his first two years in the NFL he had a 55.8 completion percentage, which is nowhere near what the Bills would want out of a franchise QB. However, that was significantly improved this year with his  69.2 completion percentage. After leading the Buffalo Bills to a 13-3 record and their first division title in 25 years, Allen has solidified himself as a top 5 QB in the league and a very worthy MVP candidate not only this year, but also in years to come. 
While Aaron Rodgers may have won it in the end, there were many other outstanding players making a very competitive race. However, we do know one thing. These guys have made it a pretty fun 2020 season.