Top 5 Trader Joe's Items
Let's be real: Trader Joe's must be everyone's favorite supermarket. From the selection of crunchy snacks to the spectacular frozen section, the store brings pure excitement to customers. Trader Joe's has something for everyone, and even keeps up with each new season, debuting  special—and limited—treats, to make your festivities full of fun. This is my list of the 5 best items Trader Joe's sells.
Number 1:
"Joe's Diner Mac 'N Cheese"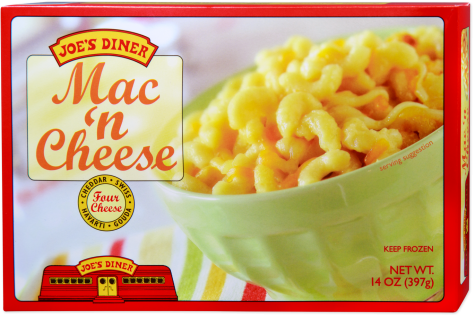 Found in the frozen section, this four cheese Mac 'N Cheese is a must-try . When heated up in the microwave, the melting cheese distributes itself evenly through the pasta. It is the perfect after-school snack or quick dinner and fills your stomach right up. If you're lucky, the cheese on the side of the container will burn, creating the best bite. I encourage everyone to purchase "Joe's Diner Mac 'N Cheese" when stopping at Trader Joe's. Your life will be changed forever. (Sorry to those who are lactose intolerant). 
Number 2: 
"Cauliflower Gnocchi"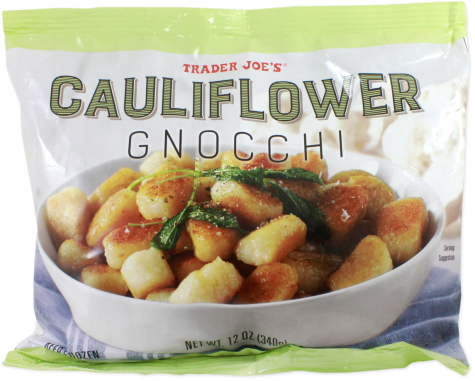 Found in the frozen section as well, this cauliflower gnocchi tastes just like the normal potato-based pasta. You have the option to microwave, boil, or pan saute the "pasta." Personally, I sauté the gnocchi, which, for me, results in a perfect meal. This is another quick, healthy-ish meal; it takes only about 10 minutes to make. Top it with some cheese and your favorite red sauce, and your "pasta" is complete. 
Number 3: 
"Soft and Juicy Dried Mango"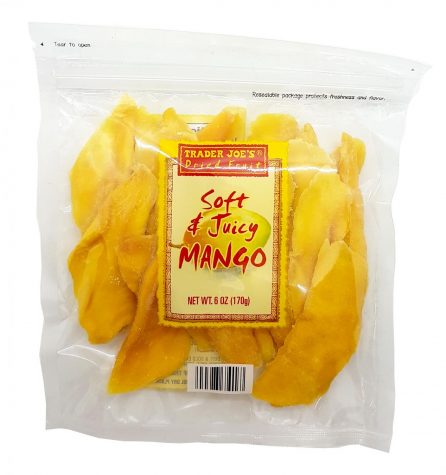 This dried mango is the only dried mango I will ever eat. Whoever invented this should get a pay raise because no other dried mango even compares. When choosing your dried mango, be extremely careful and choose the "Soft and Juicy" option. Trader Joe's offers other types like the "Just Mango Slices" and "Organic Dried Mango," but they don't even come close to the sweet taste that erupts in your mouth after biting into the  "Soft and Juicy" ones. There is definitely a substantial amount of sugar in this snack, but they are irresistible. A perfect snack for on the go, this dried mango will always leave you wanting more. Better stock up. 
​​Number 4: 
"Steamed Pork and Ginger soup dumplings"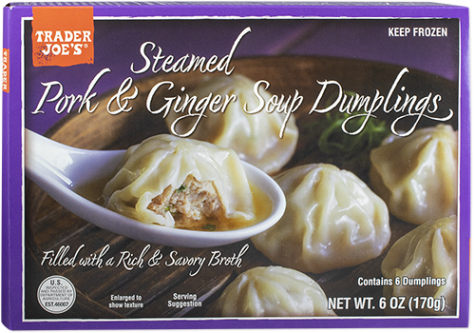 These soup dumplings are a pretty good alternative to restaurant dumplings. Although sometimes the dumplings break in the tray, they are a really tasty, really quick version of the Chinese dish. They are filled with the perfect filling: a substantial amount of broth and pork. This makes for a great winter snack. Don't expect the highest quality, but for supermarket soup dumplings, they go above and beyond. 
Number 5: 
"Dark Chocolate covered Almonds"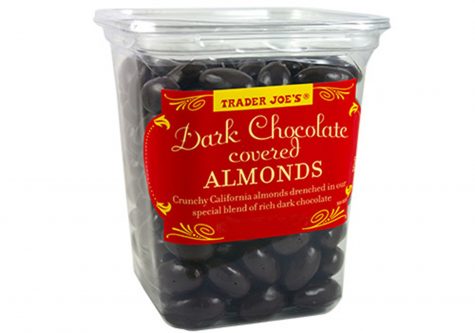 I could eat the entire container of these in one day. Whenever these sit on my counter, I grab a couple every time I'm in the kitchen. They are a perfect mix of sweet and bitter chocolate. They're also an amazing, accessible "study snack,"  as they are easy to eat while doing your homework. Eating while  working on my homework is definitely one of my weaknesses, and these are a must. It seems like the container is never ending, providing endless snacks. 
​​