Hastings' New Interim Superintendent: Dr. William McKersie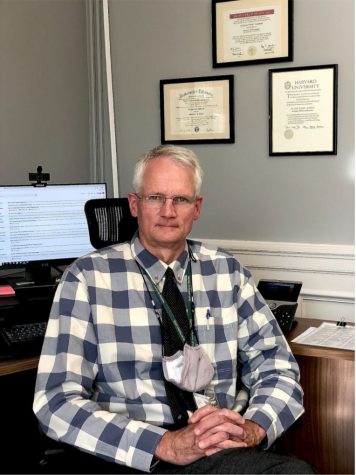 Dr. William McKersie, Hastings' new interim superintendent, says that he came to Hastings because he saw "intellectual rigor and compassion" in the district. 
Earlier in his career, he was the longest serving superintendent in over 20 years at Greenwich Public Schools in Connecticut. Later, he was superintendent at the Weston Public Schools, also in Connecticut. He is still involved in the Greenwich Public Schools- his daughter attends school in the district. 
After receiving a Master's in Education from Harvard University in 1986 and a PhD from the University of Chicago in 1997, Dr. McKersie returned to Harvard as the Associate Dean for Development and Alumni Relations. In this position, he secured the university's largest single gift of $12 million. Before this role at Harvard, he led the transformative Cleveland Heights High Schools project, an initiative funded by the Bill and Melinda Gates Foundation that involved more than 80 individuals, numerous foundations, and community agencies. Since he will only serve the Hastings schools for a single year, Dr. McKersie does not intend to be too ambitious and start projects that will take multiple years to complete. Instead, he wants to focus on having a relatively normal and calm year. He said, "the Board very much wants this year, after the last 18 months of upheaval, […to be] as calm a year as possible. We just want to help Hastings get back to its great rhythm it had." 
However, Dr. McKersie does have a few goals for this year, including better communication from the district and schools. He wants to update the school district's website and consider greater usage of  social media. He wants the communications to be "as strong as possible and as clean, neat, accurate, efficient as possible."
Dr. McKersie wants his students to be well informed and to possess knowledge about a range of subjects. He said, "I would hope, very simply, that when students leave Hastings High as a graduate, they can write well, they can speak well, they know how to raise tough questions in a polite and friendly way, [and] they know how to think critically and act compassionately about solutions to tough societal problems." 
He also knows the importance of having students who are involved in a range of arts and athletics. Dr. McKersie himself has experience with student-athletes. He has played soccer since he was around the age of eight, and went on to coach the sport (as well as girls basketball) as an adult; initially, he coached in schools, but later he coached in clubs. As he puts it, "for much of my career, coaching has been my way to stay in touch with young people."
He said he views coaching as teaching: "The best coaches are great teachers, and vice versa."
Dr. McKersie is joining the Hastings community at a time of great upheaval. After a year and a half of the pandemic, keeping the schools safe is still a priority. Dr. McKersie keeps track of all the changes in policies and ensures that the Hastings' schools are doing what they can to stay safe. He is constantly in touch with other school districts in the area, making sure that everyone is on the same page. Dr. McKersie admires the attention to a healthy learning environment. He appreciates the expert attention given to grounds and facilities, including the buildings' ventilation and sanitation. He added, "The nursing staff is excellent. They are just so attentive."
After being forced into virtual schooling for so long, Dr. McKersie thinks we have learned a lot. For example, teachers can now use the new tech skills that they learned in the classroom. He also understands that virtual  platforms might make some parent meetings more accessible: "A lot of districts have learned that for busy families, doing a meeting virtually may actually be as good as doing it in person."
Though Dr. McKersie has numerous goals for this year, he recognizes why he came to the district in the first place. "What I sensed in Hastings was that blend [in students]… [of] the arts, theater, music, athletics, [and] various rigorous academics."