Montero by Lil Nas X
Viral "Old Town Road" Star Proves His Place as Serious Artist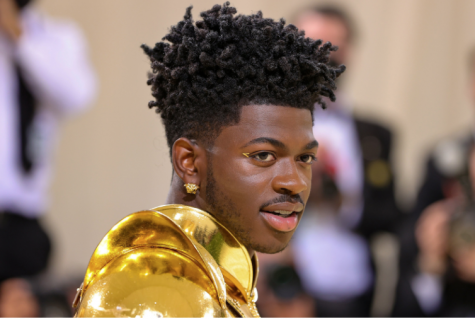 Two years after his single "Old Town Road" broke the record for the longest time spent atop of the Billboard Hot 100 (nineteen weeks), Lil Nas X finally released his debut album, Montero (Columbia Records, 2021). In these two years, two questions lingered:  (1) would it be worth the wait and (2) would his original success be replicated.  
Coinciding with the release of the lead single "Montero (Call Me By Your Name)," Lil Nas X collaborated with an art collective called MSCHF to design modified Nike Air Max shoes covered in Satanic imagery as a tie-in to the song. Supposedly, each shoe has a drop of one of MSCHF's employees' blood. The song's lyrics and music video are, as one critic called it,"unabashedly queer." They involve killing Satan so Lil Nas X can presumably become the new king of hell. Columbia Records pulled out all of the stops for the marketing for this song and the subsequent album release. They employed the modern art of engineered viral marketing. Fueled by the inevitable and purposeful controversy that these media campaigns caused, "Montero (Call Me By Your Name)" was an immediate commercial success and is steadily approaching one billion streams on Spotify.
I can't pick out a single flaw with the song itself. It has a great groove, and the production is creative yet inoffensive and familiar to the average listener. The vocal performance is great, the mixing is interesting, with nothing overdone. This is a top notch track and one of the best releases of this year so far. Another single, "Industry Baby," featuring Jack Harlow, is a big standout on the album. The slick beat and trumpets catch the listener's attention. Each verse brings something different to the table, and Jack Harlow's feature is a huge highlight. "Sun Goes Down," a more somber and introspective cut, includes infectious, calming melodies and a pleasant beat; I wouldn't be surprised to hear something similar on "lofi hip hop radio – beats to relax/study to." It might even be better than "Industry Baby"; it's just really well done through and through. Overall, each of these three singles, which were released prior to the album, are high-quality hits perfect for the teenage market. 
Further proving his place as a mainstream pop phenom, Lil Nas X was able to attract  several of the world's current top musicians to collaborate with him on Montero. "Dolla Sign Slime," featuring Megan Thee Stallion, is yet another contemporary pop track featuring a trap beat and trumpets. But, when compared to "Industry Baby," the trumpets are much more subdued and are not the only focus of the instrumentals. What truly pushes "Dolla Sign Slime" forward is the vocal melodies and Megan Thee Stallion's verse. It's pretty standard stuff for her, but she has a great formula, and her contributions to songs are always welcome. It's not the most unique or best song on the album, but it's light and easy to enjoy. I could easily see it being a radio and TikTok hit.  
"Scoop," with Doja Cat, has a great feature going for it, but the chorus is borderline annoying and over-engineered for TikTok success. "One of Me" is a surprising standout, with nice piano bits by Elton John. On my first listen, I kept waiting for Elton John to start singing, but it never came. I had to look it up to figure out that the piano embellishments were his only part in the song. It's an awkward shoe-in, but easy to look past as the song is quite nice. Even though features on this album don't stray too far from the featured artist's formulas, they do add a lot to the tracks and the album as a whole.
As I was nearing the end of my initial listen, I began to wonder if there would be the standard late-album introspective ballad about grappling with fame that has become a stock part of most recent pop releases. "Void" filled the role perfectly. It's the longest track on the album, and the lyrics give insight into how Lil Nas X feels. The falsetto sounds super fake, but I can suspend my disbelief about the vocal manipulation. The song is not world changing, but it's also sweet and definitely not annoying. "Don't Want It" has the same themes as "Void," but instead of being a somber ballad, it sounds like a dialed-down version of "Industry Baby." Both thoughtful songs are relatively forgettable, but I do like to see Lil Nas X trying to open up more in the song lyrics.
I was surprised to hear some alt/punk rock style songs on this album. "Lost in the Citadel" is an interesting listen, and although it doesn't bring a creative or new sound in today's pop landscape, it achieves its goal of broadening the styles on the album. The main problem is the distortion on the guitars. They are trying to emulate a classic 90s-2000s rock style, but it just isn't done well enough to be convincing. "Life After Salem" has a nice groove, and the crescendo before the big drop is great. However, when the drop comes, instead of the Pink Floyd-style intense rock explosion intended, it just sounds murky. Even if some of the guitars fall flat, these two songs add much-needed variety to the album: I become excited when they approach in the queue. 
Some of the worst songs on the album come early in the tracklist. "Dead Right Now" has some of the better lyrics on the album, but the non-interesting trap beat and forgettable chorus make it one of the worse songs on Montero (the gospel vocals are a nice touch, but similar things have been done better by other artists). "That's What I Want" is an homage to early-2000s pop, and some of the melodies sound straight out of Outkast's Hey Ya. It adds a nice variety to the album, but the chorus is cheesy and doesn't feel genuine. These two songs are fun at a first glance, but they don't hold up under any scrutiny. 
The finale, "Am I Dreaming," featuring Miley Cyrus, works well as an ending. It sums up the album's themes, and Miley Cyrus's feature fits well with her country roots showing. I initially thought it was weird to have a feature in the final song of the album, but it works. The sound effects at the very end, which I assume are supposed to sound like the colorful garden portrayed on the cover, tie it up nicely.
Overall, Montero is a decent modern pop/trap/rap/rock crossover that nearly everyone ages 12-22 will thoroughly enjoy. Unfortunately, the majority of the non-singles instrumentals are standard and boring; they are just trap beats and bass with little to nothing else. Even so, Montero was a success and it proves that Lil Nas X is more than a one hit wonder, and I'm highly anticipating his next work. I hope we don't have to wait two years.
Stream Montero by Lil Nas X: https://lilnasx.lnk.to/MonteroAlbum
Thoughts? Requests? Email me at [email protected]
74/100