Knit for a Neighbor – The Yarn Club
At the beginning of the 2021-2022 school year, many new clubs were founded: cooking club, sailing club, and astronomy club are a few of the new clubs that have drawn students with similar interests together after a year of forced separation. Among these new extracurriculars is the Yarn Club, co-founded by seniors Anna Dunn and Sola Kitazato, both of whom share a love and passion for crocheting. 
This year, the new club paired up with Hastings KIDS (Kids Involved Doing Service) to work on a project called "Knit for a Neighbor." Hastings KIDS is a student-led organization that emphasizes community and volunteer work. They work closely with Project Share and other non-profit volunteer groups in the area. Luisa Scioscia, a senior at Hastings serving on the Hastings KIDS board for her fourth consecutive year, described the organization as a "group of high schoolers working to create and provide volunteer opportunities for our peers/other students in our community." Hastings KIDS offers opportunities such as Book Buddies, hiking, snow shoveling, and many other community services. 
Knit for a Neighbor came to be when a member of Hastings KIDS suggested that the midnight runs (visits to New York City run out of Dobbs Ferry where volunteers distribute food, toiletries, and clothing to people who need it) would benefit from more clothing items. "[One student] came up with the idea to include hand-knit scarves to hand out during a midnight run," Luisa explained, "and so we partnered with the yarn club to try to get as many donations as possible."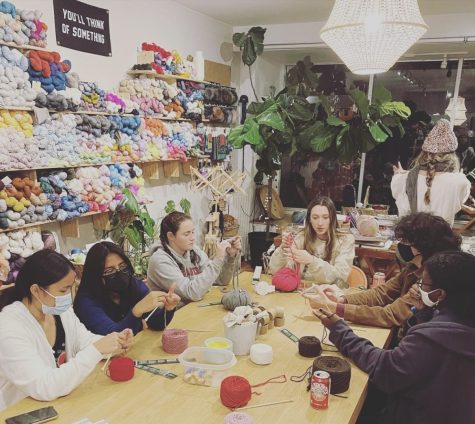 Luisa also acknowledged The Observatory Shop, located on Main Street in town, for generously donating supplies to Knit for a Neighbor. "They donated a lot of time, yarn, and knitting needles to help this group of Hastings high school students learn to knit." Without the help and supplies offered from The Observatory, Hastings KIDS might not have been able to gather as many donations. At the end of the project, a total of twenty-five donations had been collected for distribution to the homeless in New York City.
Anna Dunn explained that the weekly Yarn club meetings turned into a fun learning experience for everyone: "We gathered a bunch of underclassmen who wanted to learn how to work with yarn, and taught them in groups how to knit and crochet." The groups met every Monday to make scarves for the Midnight Run. 
This collaboration between the clubs of Hastings is something that we don't see as often as we should. Different activities can lend to each other in many ways as the Yarn club and Hastings KIDS have shown.