Wrestling 2022: The Next Up and Coming sport?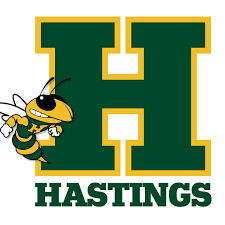 Despite only housing three sports, the winter season at Hastings is an extremely popular time for athletics. Through JV and Varsity, basketball gets a multitude of players, both on the boys and girls side. Similarly, this year winter track had over 80 people participating, their highest number of athletes in the program ever. 
A sport that in years past has fallen under the radar is wrestling. However, after hearing from the modified/varsity Assistant Coach Richard Kavy, Athletic Director Andrew Wendol, and veteran wrestler Michael Espinoza, that might soon be subject to change. 
Why doesn't wrestling get as much attention in the first place? Mr. Wendol said, "It's a demanding sport, and you gotta want to do it because the training for it is intense." Coach Kavy added that sometimes the "intimate contact between players makes people uncomfortable." In other sports, it is extremely easy to get lost in the field or court; in wrestling everything is on you, which scares a lot of kids.
 In recent years, the numbers for wrestling have been on the low side. Coach Kavy said that over his 12 years of coaching, the number of wrestlers has fluctuated. Last year, there was no team because of COVID-19, and in the year prior there were a mere eight players on varsity. This year, there are 22 players on varsity and 12 on modified. 
Where is this shift in numbers coming from? An extreme emphasis was placed on the young guys and underclassmen. There were no seniors on the wrestling team this year. Coach Kavy said that the "exposure on television" could be another factor as to why there are more wrestlers this year. 
Coach Kavy, Mr. Wendol, and Michael Espinoza made it clear that this is a dedicated group. "They were in there every day [at practice and in the weight room], working hard, having a good time," said Mr. Wendol. Despite all of the challenges this weird season presented with masks and unfamiliar practices, this group of wrestlers surpassed expectations. Even when their practice space, the Farragut Gym, was being used for the band, the boys didn't give up. They won meets that they weren't favored in and overall had a successful season. 
Veteran wrestler Espinoza attributed the improvement of the varsity wrestling team to the new coach, Sammy O'Hare. Espinoza thought that O'Hare was a "more hands-on guy," and his prior experience in wrestling helped a lot in teaching the new guys techniques.
Overall, the future is bright for the Hastings High School Wrestling Team. With the 22 person team being made up mostly of freshmen and sophomores, students, coaches, players, and fans have a lot to look forward to with the future of the wrestling program. As Espinoza put it: "if the young guys put in the work and effort, this team will be looking really good." With 12 players on modified soon coming to the high school, wrestling is certainly the next up-and-coming sport.