The Dark Side of Dating Apps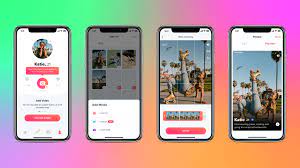 In the digital age, dating apps are often a critical tool  in the process of finding a partner. The idea of a computer showing a "perfect match" sounds like a dream come true, but the reality is often a lot more complicated. Do dating apps actually work or are they rigged against the user? And regardless of their efficacy, what data are they collecting?
Dating apps obviously have to work to some degree, otherwise nobody would use them. A 2019 Pew Research Center survey reports that 57 percent of people who used an online dating app found it to be at least a "somewhat positive" experience, but that's only about a little over half of the user base. The same study reports that of the estimated 30 percent of Americans who have used a dating app, 23 percent went on a date and 12 percent were in a committed relationship or married because of the app. These odds are pretty good, but these sites still have issues. The Pew study cites that 71% of online dating users surveyed believe that people lying about themselves to look more attractive, known as "catfishing," is very common. 50 percent also believe that setting up fake scam accounts is very common. 
Much more damningly, a whopping 37 percent of online dating users said someone continued to contact them after saying they were not interested, 35 percent of users said they were sent an unsolicited sexually explicit message or image, 28% were called an offensive name and 9% were threatened with physical violence. An estimated whole tenth of the user base of dating apps have been threatened with violence. Women are also a lot more likely to fall victim to harassment via dating apps. Since it is online, the harasser can be blocked and reported, but that doesn't excuse the sheer volume of harassment cases that occur through these apps. Bumble attempts to solve this by letting women send the first message, but there is currently no data regarding the effectiveness of the method and how it functions outside of the gender binary. Bumble also uses AI to screen and block images that may be lewd, but, once again, data regarding the success rate is not available.
Another major concern regarding these apps is privacy and data collection. Dating apps collect any data explicitly shared with them, which can include gender, sexual orientation, location data, religion, race, political affiliation, name, occupation and any media shared through the app. Disturbingly, in 2018, Grindr admitted that two companies it paid to study usage of the app were able to access data regarding users' HIV status. Certain apps may also collect data regarding the amount of time you spend looking at a profile, which can lead to the filtering of other profiles on visible traits such as whether the subject is smiling and even the race of the subject.
Most dating apps make money off subscriptions services and paid upgrades. Though many services claim they do not sell data, the information regarding users, who are usually 18-34 year olds, available through the apps is highly valuable for targeted advertising. Still, most dating apps make revenue through paid services which are augmented through the use of referral systems, in which one user can get other potential users to sign up for the app, giving the original user access to certain bonuses and strengthening the potential customer base as a whole. But while dating apps have alternate means of profit, selling data is still a possible means of income. And like any other online service, dating apps are susceptible to data breaches, which means that any information given to them is inherently at risk of being stolen by hackers who manage to break any security systems in place.
Dating apps generally have a relatively high success rate, with an estimated over two-thirds of users going on a date because of digital dating. Still, harassment (especially towards women) pervades every platform and there seems to not yet be an effective solution to this problem. Dating apps also collect an enormous amount of data regarding each user, and while this is used to make more accurate matchups and likely won't be sold to advertisers, it still raises a lot of questions regarding what happens in the event of a data breach. It can leave users extremely vulnerable. It is up to the individual whether or not they choose to use these platforms, but in general dating apps do not always live up to their grand aspirations, and  their downsides that are worth knowing.