One Town's Trash is Another Town's Curse: Who Shoulders the Burden of Hastings' Garbage.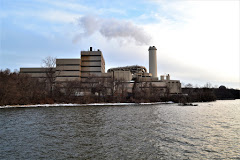 The factories along Hastings's waterfront lie dormant. Their crumbling brick smokestacks serve as a reminder of our state's industrial legacy. Of course, such facilities still exist.
For low-income communities and communities of color, these facilities are an omnipresent aspect of reality.
But to us, Hastings residents, energy is a switch, water is a faucet, and trash cans are beautifully convenient swallowers of waste which seamlessly make our garbage disappear. Unfortunately, we students rarely get the full lowdown on how these luxuries work. Who can blame us for our ignorance? The aristocrats of Versailles did not see the wretched in the city streets. Neither do we.
A clear example of an important blindspot is our trash and what happens to it. According to the Hastings municipal website, our garbage is taken to Wheelabrator's waste to energy plant in Peekskill, where it is incinerated to provide energy for the power grid. Wheelabrator Westchester, as it is known, processes 2,250 tons of garbage a day. It burns enough trash to power 63,600 homes, but at an enormous cost. According to a document published by the Board of Trustees of the Village of Hastings-on-Hudson, Wheelabrator Westchester released 577 million pounds of carbon dioxide in 2016. A passenger vehicle would have to circumnavigate the earth 26,016 times to match Wheelabrator's 2016 CO2 emissions. In that same year, Wheelabrator also emitted 131,000 pounds of carbon monoxide, 270,000 pounds of sulfur dioxide, and more than 2 million pounds of nitrogen oxide. The plant is located on John Walsh Boulevard in Peekskill, about a mile from the town's residential area.
What does this mean for the residents of Peekskill? According to health and environmental departments from the governments of the United States and Australia, SO2 and NO both cause irritation of the respiratory system and lead to asthma and other illnesses of the airways. Indeed, the Hastings Village Board of Trustees confirms that communities living around the plant have higher rates of asthma. Of course, other negative health effects in Peekskill are going unreported. It is hard to be certain about the specifics, but health data from around the world suggests that Peekskill residents suffer gruesome side-effects. A study reported by the United States National Institute of Biological Health found that those living within a 7.5 km radius of municipal waste incinerators in England, Scotland, and Wales had a significantly higher chance of developing cancer of the stomach, colon, liver, and lung. The Agency for Toxic Substances and Disease Registry studied a population living near a waste incinerator in western North Carolina and found that "[…m]embers of the population close to the incinerator were almost nine times more likely to report recurrent wheezing or cough, and they were almost twice as likely as those living further from the site to report respiratory symptoms (after adjustment for smoking, asthma, and environmental concern)."
Admittedly, the Wheelabrator plant is among some of the better waste-to-energy plants (at least according to its website). It takes steps to reduce the amount of pollutants released and to recycle some waste rather than incinerate it. But the very nature of its work spells out danger for the health of Peekskill citizens.
To find out why Peekskill boasts a waste incinerator plant and Hastings does not, one need look no further than Census data. Hastings-on-Hudson is 88.1% white. Peekskill, on the other hand, consists mostly of people of color: 77% of the town's people are black or Hispanic or Latinx. The average annual income of a Hastings household is 139,118 dollars, while Peekskill households earn an average of 54,494 dollars. Only 27.4% of Peekskill adults over 25 have a bachelor's degree, but 73.5% of Hastings adults over 25 have graduated college. The fact is that Hastings, like so many other towns in Westchester, which are wealthier and have more power than Peekskill, hold the authority to refuse to share in the burden of waste. Could Hastings, a self-declared environmentally-conscious and diversity-oriented town, be a perpetrator of environmental racism? Environmental racism is the purposeful targeting of communities of color for facilities with toxic pollutants. By that definition, the Hastings-Peekskill relationship is a textbook case of environmental racism.
Now I am not suggesting we start piling our trash onto Reynolds and start our own incineration plant. No community, privileged or otherwise, should have to deal with the scourge of toxic pollutants. But it is our responsibility to do our part. 45% of Wheelabrator's trash, including food scraps, is recyclable. Two of the best things we as teenagers can do is recycle our trash and be mindful of our trash output. Donate old clothes and shoes. Encourage your family to collect and then recycle plastic bags at Foodtown (it's free). Urge them also to put food scraps into industrial compost. Take food waste down to the Department of Public Works by the river and put it in the big green compost bins. If thirteen dollars is too much for a lightweight, sealable compost bin (for sale at the James Harmon Community Center), buy an orange Home Depot bucket for less than five dollars. Sets of twenty-five six-gallon compostable food waste bags sell at the community center for five dollars apiece. And even though we are forbidden from entering the school right now, we should still formulate ideas on how to reduce our waste as Hastings High School students: Put tea or seltzer or just plain water in a metal bottle instead of buying drinks. Bring peanuts or crackers to school in tins rather than buying bag after bag of potato chips. Pack a sandwich in a tin container once or twice a week instead of always buying and then throwing out plates of food. The key is to be conscious of your trash output.
While we often advocate on behalf of the environment as a vague and abstract concept, it is worth remembering that there are real, concrete environmental problems impacting our fellow Americans just a few miles away. The small steps described above are simple but effective. The lighter your trash bags, the lighter your conscience. And the less garbage incinerated in Peekskill? Who knows? You might stop a cancer case and improve public health. That's worth something, right?